Australia court blocks migrants' return to Sri Lanka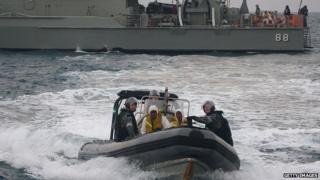 The Australian government's attempt to return 153 asylum seekers to Sri Lanka has been blocked by the high court.
The move comes after Australia confirmed on Monday it had returned 41 people to Sri Lanka after screening their asylum claims at sea on Sunday.
Politicians and rights campaigners say the asylum seekers, who include Tamils, could face persecution back home.
Australia's Prime Minister Tony Abbott has promised to get tough with refugees.
The interim injunction will prevent the Australian government from returning the 153 asylum seekers until Tuesday afternoon, when the matter is set to be heard in the high court, ABC News reports.
Immigration Minister Scott Morrison acknowledged on Monday that a boat-load of 41 people had been handed back to Sri Lanka, while not commenting on the fate of a second boat reportedly carrying about 150 people.
He said they were transferred at sea just outside the Sri Lankan port of Batticaloa on Sunday. "All persons intercepted and returned were subjected to an enhanced screening process," he said.
---
Australia and asylum
Asylum seekers - mainly from Afghanistan, Sri Lanka, Iraq and Iran - travel to Australia's Christmas Island on rickety boats from Indonesia
The number of boats rose sharply in 2012 and the beginning of 2013, and scores of people have died making the journey
The previous government reintroduced offshore processing in Nauru and Papua New Guinea (PNG). Any asylum seekers found to be refugees will be resettled in PNG, not Australia
The new government has toughened policy further, putting the military in charge of asylum operations and towing boats back to Indonesia
Rights groups and the United Nations have voiced serious concerns about the policies. Australia says no new asylum boats have arrived for 200 days
---
The government says only four of those returned on Sunday were Tamils.
Sri Lanka has said that those returned would be charged with leaving the country illegally and those found guilty would face "rigorous imprisonment".
Last week, the UN refugee agency UNHCR expressed "profound concern" about the reported situation.
Sri Lanka has been under heavy international pressure over alleged human rights violations during the final phase of the war against Tamil separatists, which ended in 2009.
Rights groups say Tamils still face violence at the hands of the military.
Australia has been taking a tough approach to asylum seekers who try to reach the country by perilous sea journeys.
Under current policy, asylum seekers who arrive by boat are sent to detention camps in Papua New Guinea or Nauru. If found to be refugees, they will be resettled there, not in Australia.
Australia says its asylum policy - which is also widely believed to involve towing boats back to Indonesian waters - is aimed at saving lives.
It is the first time the Australian government has confirmed it has intercepted people at sea, screened them and returned them to their country of origin.