Afghan election: Palpable rage in Abdullah's camp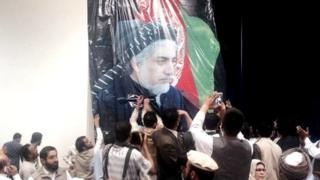 People at the venue in Kabul where Abdullah Abdullah spoke to his supporters were angry. A crowd tore down a poster of outgoing President Hamid Karzai chanting: "Death to Karzai. Long Live Abdullah!"
The rage was palpable - a chorus of aggression and hatred in the Afghan capital's historic Jirga tent ensured that the image of Afghanistan's president for the last 13 years is no longer there.
They are appalled and shocked by the election results, and they believe that massive fraud has happened while President Karzai, the election commission and Mr Karzai's rival, Ashraf Ghani, stood by.
Abdullah Abdullah won the first round of the election, and for him to fall behind so severely in the run-off is too much for his supporters to believe.
So the Abdullah camp decided to take matters into their own hands, and he appears to have some backing.
Overnight and on Tuesday morning, several influential figures - governors, district leaders, mayors, warlords - have come out in his favour.
But Afghanistan is a divided country - Mr Ghani and Mr Abdullah both command a lot of support.
If you talk to people on the street, they are worried about food prices and their incomes; they are worried about violence, a possible civil war; and they are worried about the fact that democracy seems to be returning to its starting point after 13 years.
On Monday night, there were people on the streets of Kabul shouting against President Karzai and claiming that Abdullah Abdullah had won the election. But there were also supporters of Ashraf Ghani out celebrating.
Despite suggestions that Mr Abdullah was going to announce a parallel government, he made clear he wanted a unified country.
But analysts will be very worried. They know that what is being proposed could affect Afghanistan's stability, economy, and relations with the international community.
The army across the country is such a divided force that it is difficult to know how it might respond in the event of a split.
Deadlock
Everybody recognises this has the making of an electoral crisis.
US President Barack Obama called Mr Abdullah on Tuesday morning and asked him to refrain from announcing a parallel government.
Mr Abdullah said US Secretary of State John Kerry is coming to Kabul to find a solution.
For now and until then, Mr Abdullah has promised to refrain from announcing a parallel government.
Mr Abdullah said Mr Kerry could help to find out about the fraudulent votes alleged to have taken place in the election last month.
This has been met with approval by Mr Abdullah's supporters, and it is clear that they are now more optimistic about the future.
The current electoral deadlock that risks undermining the stability of the country will almost certainly not find an Afghan solution.
And just like in 2009 - at the time of the last presidential election, which was also marred by fraud claims - it is again up to Mr Kerry to find a way forward.