Karzai poster row bodes ill for Afghanistan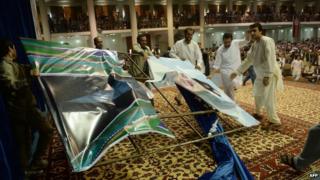 They say a picture tells a thousand words. So when a tussle erupts over a portrait of Afghanistan's President Hamid Karzai, it becomes emblematic of the current political mood as the country battles over who will succeed him following a run-off vote tainted by allegations of fraud.
It started when supporters at a rally of presidential hopeful Abdullah Abdullah ripped down a huge image of President Karzai, replacing it instead with one of Mr Abdullah. But just hours later, supporters of the man he is competing against for the top job, Ashraf Ghani, staged a counter attack.
Zubair Masood, the nephew of iconic resistance fighter Ahmad Shah Masood, led the charge for the Ghani side, creeping back to the huge Loya Jirga "tent" where the image of President Karzai was initially torn down. He re-installed the portrait of Mr Karzai, who is expected to end his term in August. Although Afghanistan's current leader has refrained from publically backing either candidate in the electoral race, he is seen by some as being a Ghani sympathiser.
Hours later in the dead of night, a group of Abdullah supporters returned to the "crime scene" and tore the presidential portrait down once again. Their mission was captured on amateur video footage which is now doing the rounds on Facebook. It shows a huddle of young men, one of them brandishing a pistol, ripping the poster of the president apart then melting into the night.
How rival candidates compare
Ashraf Ghani
Abdullah Abdullah
Technocrat and former World Bank official. Open to talks with Taliban
Former anti-Soviet resistance member. Wary of Taliban talks
Leading in Pashtun-dominated southern provinces
Ahead in mainly Tajik northern areas
Backed by Rashid Dostum, an Uzbek ex-warlord accused of human rights abuses
Supported by wealthy Balkh governor Atta Mohammad, a bitter Dostum rival
Has support of Qayyum Karzai, brother of President Karzai
Also has backing of Mohamed Mohaqiq, powerful leader of ethnic Hazaras
Ahmed Zia Masood, whose brother was a famous resistance hero, helped balance ticket
Gul Agha Sherzai, an influential Pashtun, helped bring ethnic balance to ticket
Although confrontations like these are nothing new in many other parts of the world, in Afghanistan where traditions run deep, they're considered a provocative affront and an unacceptable breach of protocol.
The first time Mr Karzai's picture was torn down, I witnessed some of the older Abdullah supporters gasping in shock. Very quickly a visibly embarrassed Abdullah Abdullah admonished the crowd - the same crowd that was heckling and goading him to announce a parallel government in protest at what they see as a rigged poll and a partisan electoral commission. Abdullah Abdullah resisted and received many plaudits as a result. He has subsequently said he "regretted" the incident.
Abbas Noyan, a spokesman for Ashraf Ghani's camp, called the portrait affair an "illegal immoral act". The hope is a ceasefire would be called in what looks like a game of cat and mouse before US Secretary of State John Kerry visits Afghanistan later this week.
Both the secretary of state and President Barack Obama have moved quickly to try to defuse tensions in Afghanistan. In a call to both of the candidates, President Obama was said to have insisted that they "avoid steps that undermine Afghan unity" and reiterated America's earlier warning that any illegal acts would result "in an end to US assistance to Afghanistan".
Every day parallels are being drawn between Iraq and Afghanistan, and diplomats are acutely aware of how quickly political rivalries can escalate into ethnic tensions in Afghanistan. "Portraitgate", as it might now be called, will surely not help and this is perhaps why the leaders of the world's most powerful nation have waded in with such speed.
Insiders from diplomatic circles say the next few weeks will be critical in determining the future direction of Afghanistan's fragile transition. Crucial will be whether the election authorities will regain some credibility in the minds of doubters who fear that it is not impartial.
Both contenders in the political contest may have appeared statesmanlike over the past 24 hours, but the question many are asking is whether they can control their supporters.
Pistol-brandishing youths fighting over a portrait may appear to be bravado. But in a country with a troubled history where much Afghan blood has been spilt in the past three decades, some fear this election could be used to settle old scores and it could be more than portraits that come tumbling down.