Indonesia vote: Wait for official count, says president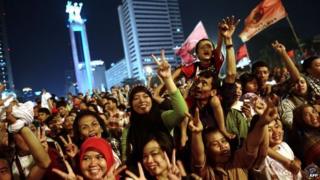 Indonesia's outgoing president has urged both camps in Wednesday's election to keep supporters in check while the official count takes place.
Both candidates have claimed victory in the presidential election, based on unofficial "quick counts".
The majority of these give Jakarta governor Joko Widodo a slim lead over his rival.
But former army general Prabowo Subianto says other counts point to a win by him.
The current leader, Susilo Bambang Yudhoyono, cannot run for a third term. On Wednesday night he summoned both candidates to separate meetings at his home outside Jakarta.
"(The president) asks both candidates' sides to show restraint, not to mobilise masses onto the streets to celebrate victory until the verdict of the Election Commission," he also tweeted.
The official tally is expected to be announced on 21-22 July.
'No parades'
Shortly after polls closed, "quick counts" by pollsters - which have been reliable in the past - were released from some 2,000 representative polling stations around the country.
Reuters reported five vote-tallying agencies had Mr Widodo in the lead. One count by Indonesia's oldest think-tank CSIS Indonesia put him ahead with 52% of the vote, compared with Mr Subianto's 48%.
Another by news website Kompas.com had a similar result, while a third by Saiful Mujani put Mr Widodo on 52.76% and Mr Subianto on 47.24%.
But Reuters reported that two other vote tallying agencies had put Mr Subianto ahead by one to two percentage points.
After meeting Mr Yudhoyono, Mr Widodo told supporters to wait for the official results.
"We call on all party members and volunteers not to organise a parade, it's better just to give thankful prayers," he said.
Mr Subianto, who started the campaign far behind Mr Widodo but then gained ground, has also urged people to respect the formal results.
No violence was reported after the polls, with tens of thousands of police deployed.
Indonesia has about 190 million registered voters and polling takes place across hundreds of remote islands, causing a lengthy count.
On Thursday morning, Indonesian stocks jumped by more than 2.5% on opening on the prospect of a win by Mr Widodo.
He is seen as a potential reformer and much of his popularity is founded in his reputation as a clean politician in a nation beset by corruption.
Mr Subianto, meanwhile, is seen by many as a strong leader because of his military background, but has been accused of human rights abuses committed under the regime of his father-in-law, dictator Suharto.