Malaysian MP admires Germany win - and Hitler - in tweet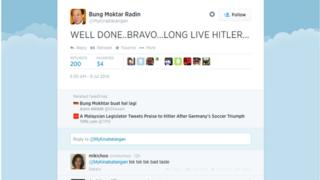 A Malaysian member of parliament has sparked controversy after he expressed admiration for Germany's win over Brazil in a World Cup semi-final - and Adolf Hitler.
Shortly after Germany's 7-1 win, Bung Moktar Radin tweeted: "WELL DONE..BRAVO...LONG LIVE HITLER..."
His tweet was instantly met with outrage on social media and made headlines in national newspapers.
Germany's ambassador to Malaysia said the reference was "unacceptable".
Mr Bung, however, has remained unapologetic about his tweet, saying that it was just for fun.
He told Malaysian newspaper The Star that he meant to compare the German team's performance to how Hitler fought in World War Two.
"I don't know what's wrong with people sometimes. Hitler is part of history and the German team fought like how he did," he said.
Germany's ambassador to Malaysia, Holger Michael, has condemned the tweet.
He told The Malay Mail: "While we appreciate the admiration for the German football team, we strongly reject the unacceptable allusion to the fascist regime of Adolf Hitler."