Pakistan child murder: Multan police hold 'rapist'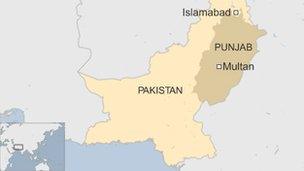 A three-year-old girl has been killed during an attempted rape in the Pakistani city of Multan, police say.
Officers say they have detained a man, a security guard who was living in a vacant house in the same neighbourhood.
They say he has confessed to the crime and has said he lured the girl to the house where he tried to rape her, during which she died.
A medical report into the incident is still being prepared.
The Express Tribune newspaper reports that the girl went missing and was found an hour later.
Earlier this year, the death of a teenager who had set herself on fire when police dropped charges against those accused of attempting to rape her prompted outrage in Pakistan, particularly on social media.