Cartoonist's view of war and peace in Afghanistan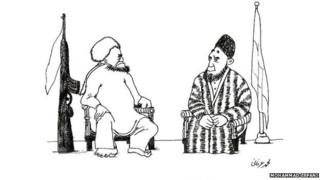 Grimacing insurgents, fierce warlords and confused voters are the subjects of caricaturist Mohammad Erfani's drawings.
An exhibition of the artist's cartoons at the French institute in Kabul shows that political satire is alive in Afghanistan, despite concerns over freedom of expression.
When I visit the show, a few, mainly young people wander around between the pictures.
Erfani hesitated to promote it too widely, for fear it could be stopped. The show is called 'War/Peace'.
"I chose the title because these two aspects define the reality of Afghanistan," Erfani tells me.
"Sometimes people don't understand the point I make, some people take things the wrong way," he says. "My main concern is that I get across what I really want to say."
He hopes to attract a bigger audience and says people are ready to accept caricature.
Mohammad Erfani was born in Afghanistan's eastern Ghazni province in 1984, but he spent most of his childhood and youth as a refugee in Iran.
It was there that he started drawing cartoons for fun.
He says he was inspired by the work of the late Palestinian artist Naji Salim al-Ali, one of the most famous cartoonists in the Middle East who satirised Arabic politics before being gunned down in London in 1987.
"At that time I was a fan of Naji al-Ali, and I was drawing caricatures about the ridiculous aspects of life and relationships between people," Erfani says.
When the Taliban government was ousted in 2001, Erfani returned to Afghanistan and start drawing cartoons for a living.
Even though newspapers started to publish cartoons and even employ caricaturists from 2001 onwards, it wasn't always easy.
When Erfani started his own magazine "Cartoon" with a friend it only lasted for four editions.
When they published some drawings about well-known jihadi leaders, the powerful warlords who have been criticised over past crimes and corruption, Erfani was told to stop.
"We were looking forward to receiving funding and support, but the ministry of information and culture came and banned it on the ground it was insulting to jihadi leaders." Erfani remembers.
In general his drawings don't show recognisable faces.
His cartoon of Afghan voters looking lost amidst oversized presidential candidates doesn't identify any of the politicians involved in the race.
Erfani says there are still sensitivities and limitations on freedom of expression, but he prefers to focus on issues rather than a particular face.
"The country and the people of this country along with whatever happens here are sources of inspiration," he says.
Zubaida Taheri who came to see the exhibition with a group of friends says the cartoons offered a fresh view on everyday life.
"The one I liked most was the van without wheels which is carried by the feet of the passengers," she says. "It says that even if there's not much to get on with, people can go forward without any facilities if they come together."