'Foreigners' killed in Kabul airport suicide attack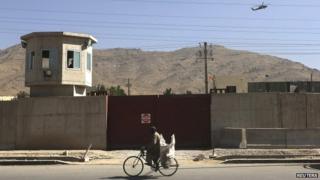 A suicide bomber has killed four people, including at least three foreign security guards, in an attack outside Kabul airport, officials say.
The Taliban said they carried out the bombing, which targeted a key counter-narcotics building.
Four insurgents also died, officials say. There is no word on the nationalities of the foreigners killed.
The attack comes days after security forces repelled an attack on Kabul airport by the Taliban.
In a separate attack on Tuesday, a roadside bomb injured a civilian close to the Afghan meteorology department near the civilian entrance of the airport.
'Invader forces'
Heavily armed militants attacked the counter-narcotics building with grenades and automatic weapons.
Police say the bomber rode a motorcycle and detonated his explosives outside the main entrance, located close to a foreign military base 2km (1.2 miles) from the main runway.
In addition to the security guards and insurgents killed in the exchange, at least six other guards were wounded.
An interior ministry spokesman said that the guards were protecting the entrance to the building, where counter-narcotics operations throughout Afghanistan are organised and executed.
Taliban spokesman Zabihulllah Mujahid told the Reuters news agency that "up to 15 invader soldiers were killed or wounded and many vehicles were damaged".
The attacks come against the backdrop of a hotly disputed election process.
The election commission is conducting an audit of votes cast during a presidential run-off, held on 14 June.
Ashraf Ghani won the run-off, according to preliminary results. His rival Abdullah Abdullah came top in the first round in April, but failed to secure 50% of the vote to avoid the run-off.
Both candidates accuse each other of electoral fraud.