Typhoon Rammasun kills 11 in Vietnam, several missing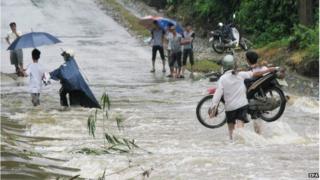 Typhoon Rammasun has killed at least 11 people in Vietnam with several people still missing, report local media.
National paper Viet Nam News reported floods and landslides in the northern provinces of Vietnam.
Last week the typhoon killed 94 in the Philippines, before heading towards Hainan island in south China.
Chinese state media Xinhua reported 38 dead or missing, with 600,000 people evacuated. It was the strongest storm to hit south China in four decades.
Local media in Vietnam have showed pictures of streets and towns swamped with muddy rainwater, and esidents camping out in makeshift tents by the roadside.
Hundreds of hectares of rice and other crops have been damaged as well. Water levels have risen in rivers in several provinces and authorities have warned of further flash floods, reported Tuoi Tre News.
Meanwhile a new typhoon, Matmo, is threatening to strike Taiwan and eastern China later this week.
Matmo is expected to make landfall early on Wednesday, and will be the first strong typhoon to hit Taiwan this year.
Around 5,400 tourists have been evacuated from Green Island and Orchid Island, two popular spots off the south-eastern Taitung county.