Indonesia election: Prabowo Subianto to challenge result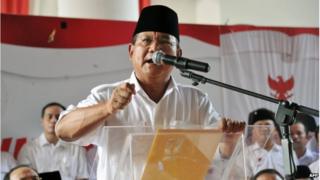 The losing candidate in Indonesia's presidential election, former general Prabowo Subianto, will challenge the result in court, his spokesman says.
On Tuesday Joko Widodo, the former Jakarta governor, was declared the winner of the 9 July poll with 53% of the vote.
Mr Subianto pulled out of the count just before the result was declared, alleging massive fraud.
His spokesman said he was preparing a challenge in the Constitutional Court.
Mr Subianto has file it within the next three days.
The Election Commission announced on Tuesday that Mr Widodo - widely known as Jokowi - won 53.15% of the vote to Mr Subianto's 46.85%.
It followed a vote-counting period in which both candidates raised concerns about voting irregularities.
But Mr Widodo's winning margin of 6% win is seen as decisive by analysts.
They say that even if Mr Subianto's claim of electoral fraud in certain areas proved to be true, this would be unlikely to change the overall results.
The BBC's Alice Budisatrijo says that a spokesman for Mr Subianto said recommendations from the election monitoring agency that voting be repeated in more than 5,000 polling stations were ignored.
But an agency official told the BBC that the claim was incorrect. He said the recommendations were for revotes to be done in only about a dozen places, and they had taken place last week.
On Tuesday, Mr Subianto declared he was "withdrawing" from the election process hours before the formal announcement of the results.
His spokesman has since told agencies that this meant he was pulling out of the vote count, and not withdrawing his candidacy.
In Indonesia, a candidate can face imprisonment and hefty fines if he or she withdraws from an election.
'Free and fair'
About 130 million votes were cast on 9 July following an intense election campaign.
Politics in Indonesia have traditionally been dominated by establishment figures from the political elite and military.
But Mr Widodo, a former furniture-maker who grew up in a small village, has promised a decisive break with Indonesia's authoritarian past and better social welfare for the poor.
Joko Widodo: Key facts
Born in 1961 in city of Solo, the son of a wood-seller
Began political career with the PDI-P party when he was elected mayor of Solo in 2005
Elected for second term in 2010 with more than 90% of the vote
Elected governor of Jakarta in 2012
Backer of technology who promises to implement "e-governance" to help cut bureaucratic corruption
What does Jokowi win mean for Indonesia?
His rival Mr Subianto is a former general closely associated with the traditional elite. He has faced multiple questions over alleged human rights abuses.
The court is not expected to rule on Mr Subianto's legal challenge until mid-August.
Mr Subianto has asked the international community withhold any congratulatory statements until due process is completed.
But world leaders have already congratulated Mr Widodo on his victory. US Secretary of State John Kerry congratulated Indonesia on "free and fair" elections and said Washington looked forward to expanding ties.
Australia also congratulated Mr Widodo, saying ties with Indonesia were "extraordinarily important to us".
The relationship between the two nations has been badly hit by allegations of Australian spying and the ongoing differences over how to tackle people-smuggling.