S Korea ferry boss Yoo Byung-eun 'hid in secret closet'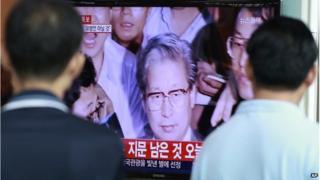 A fugitive South Korean tycoon whose death was confirmed this week hid in a closet at his holiday home to evade arrest in connection with the Sewol ferry disaster, prosecutors say.
Yoo Byung-eun's decomposed body was found in a nearby orchard last month.
But police only identified it this week, prompting many to question why they had failed to spot clues earlier.
Mr Yoo headed the family that owned the operator of the ferry. It sank in April killing more than 300 people.
Amid national outrage at the sinking, Mr Yoo was the subject of a nationwide manhunt with a reward of 500m won ($490,000) offered for information leading to his capture.
He was wanted for questioning on possible charges of embezzlement and criminal negligence, as prosecutors investigate whether the disaster was caused by mismanagement.
Prosecutors said on Wednesday that he had hidden behind an upstairs wall of his wooden holiday cabin on the outskirts of the city of Suncheon, 300km (186 miles) south of Seoul. along with bundles of cash.
Police have since found two suitcases in the crevice containing 830 million won ($810,800) and $160,000.
The cause of the billionaire's death has yet to be confirmed but more details of how his body was discovered emerged from prosecutors.
They said Mr Yoo's body was found just 2.5km from his cabin, in a plum orchard.
He was wearing an expensive Italian jacket - next to him was a copy of a book he had written, an empty bottle of a shark liver oil health tonic manufactured by a Yoo family company and several empty bottles of alcohol.
Despite such clues, police initially concluded the body was that of a homeless man and only confirmed it was the country's most wanted man after matching DNA samples to those of his brother.
South Korean media outlets have poured scorn on the police, with many carrying editorials ridiculing the investigation.
The top-selling Chosun Ilbo had a front-page headline accusing the authorities of "dumbfounding" failure. "The incompetence of police and prosecutors is simply astounding," it said.
Local news agency Yonhap said the state forensic laboratory is likely to release the results of a toxicology test and the cause of death later this week.
The sinking of the Sewol triggered widespread grief and anger at the government, which has promised to overhaul its bureaucracy and improve emergency response.
Two separate trials - one for the vessel's captain and crew, and another for officials at Chonghaejin Marine, the ferry operator - began last month.