Singapore match-fixer jailed for prostitutes bribe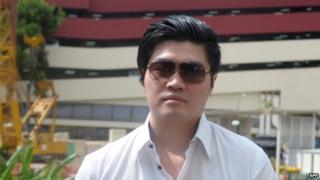 A Singaporean businessman has been jailed for three years for bribing three Lebanese football referees to fix matches.
Eric Ding, 32, was found to be part of an "organised group", but there was insufficient evidence to show he was part of an international syndicate.
The three Lebanese Fifa referees were jailed in Singapore last year.
The city-state has recently been cracking down on football match-fixers.
Ding was found to have bribed the Lebanese referees before an Asian Football Confederation game in Singapore last year. The referees were eventually replaced.
Ding had first met them in Beirut in 2012, calling himself "James Zen", according to the Associated Press.
One of the referees, Ali Sabbagh, said during his trial last year that Ding had sent him 35 links to YouTube videos about match fixing, with instructions to study them and then delete the emails.
Prosecutors argued that Ding's luxury purchases were "trappings of wealth" that arose from his match-fixing activities, according to The Straits Times.
The purchases included two expensive cars, an Aston Martin V8 Vantage and a Porsche 911, and a terraced home in an affluent neighbourhood, prosecutors said.
Prosecutors also tried to show that he was part of an international syndicate headed by another Singaporean, Dan Tan.
But the judge said there was insufficient evidence that Ding had benefited financially from the bribing nor that he was part of Dan Tan's network.
Last year Europol investigators claimed that 680 matches worldwide were fixed by syndicates with links to Singapore and Dan Tan, who was eventually arrested in Singapore and is currently awaiting trial.
Another Singaporean, Wilson Raj Perumal, was arrested in Finland in April, when police acted on an international arrest warrant issued by Singapore authorities.
He recently claimed in a book that he had fixed matches at the Beijing Olympics in 2008.