New Zealand lawmakers back match-fixing bill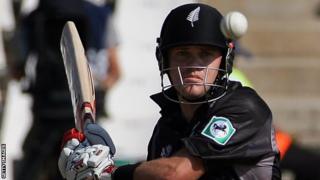 New Zealand lawmakers have backed a bill making match-fixing a crime punishable by up to seven years in prison, ahead of major sporting events.
The bill makes match-fixing a form of deception under the Crimes Act.
Next year New Zealand will host both the Cricket World Cup and the Under-20 FIFA World Cup.
Sports Minister Murray McCully said match-fixing had been described as "the number one threat to the integrity, value and growth of sport".
"As we have seen from recent events, New Zealand is not immune to this threat. That's why the government is taking action on this matter," he said in a statement.
While match-fixing was already covered under existing offences, the bill would put it "beyond doubt" that it was covered under the Crimes Act, Justice Minister Judith Collins said.
The bill has now passed its first reading in parliament and could become law by the end of the year.
The Cricket World Cup, hosted jointly by Australia and New Zealand, begins in February 2015.
Earlier this month former New Zealand batsman Lou Vincent was banned from cricket worldwide for life after admitting match-fixing.