Australia racist rant: Woman pleads guilty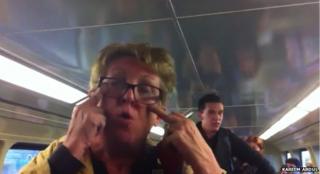 A woman whose racist rant on a train caused shock in Australia has admitted offensive behaviour.
Karen Bailey, 55, was given a 12-month good behaviour bond after pleading guilty in a Sydney court.
Bailey told the court she was appalled by her own behaviour.
She was filmed on a train travelling between Sydney and Newcastle abusing passengers, including making racially offensive gestures and using racially offensive terms.
Two passengers - a woman of Asian origin and a man sitting next to her - received the bulk of the abuse.
Another passenger captured the incident on video and uploaded it to YouTube, where it caught national attention.
In court Bailey attributed her behaviour to her failure to secure a job to support her father and to knee pain.
Magistrate Teresa O'Sullivan said that although her actions were completely unacceptable, they were also out of character.
The good behaviour bond means that if Bailey does not fall foul of the law in the next 12 months, no conviction will be recorded.