Tibetan monk Shamar Rinpoche cremated in Nepal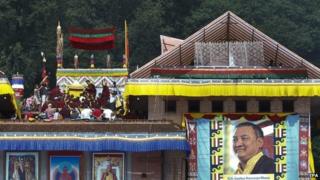 Thousands of Tibetan exiles have attended the funeral in Nepal of one of Tibetan Buddhism's most senior monks.
Shamar Rinpoche was cremated according to his wishes at the monastery he ran near the capital Kathmandu.
He died last month in Germany of a heart attack aged 61.
Nepal allowed the funeral to go ahead after earlier barring his remains from returning to the country, prompting claims that the government was bowing to Chinese pressure.
The change of mind was made because Rinpoche "contributed so much to Buddhism", the government said on Tuesday.
The Himalayan nation is home to at least 20,000 Tibetan refugees, many of whom arrived after the Dalai Lama, their spiritual leader, fled to India following a failed uprising against Chinese rule in 1959.
Rinpoche, also known as the "Red Hat Karmapa", was the 14th Shamarpa of the Karma Kagyu school, and had followers in Asia and Europe.
He built the Shar Minub monastery near Kathmandu and preached there for several years.
"It was our Rinpoche's wishes that he be brought to Nepal and we are all glad that his wishes are fulfilled despite days of uncertainty,'' Jit Lala Tamang, a monk who was present at the cremation, told the Associated Press news agency.
Police attended the funeral, but reports said Tibetan exiles refrained from anti-China protests.