Military dominates new Thailand legislature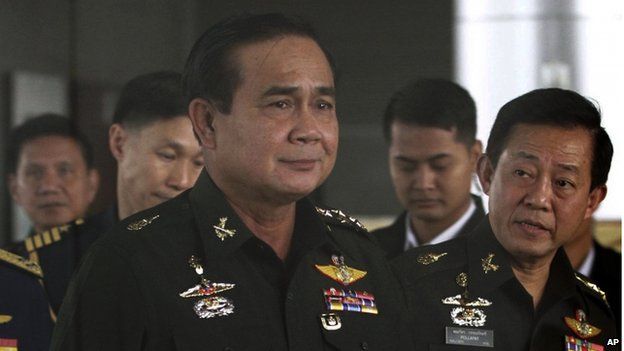 Thailand's junta has appointed an interim legislature of 200 people, with most from the security forces.
More than 100 have military ranks, while another 11 come from the police.
The rest comprise academics, businessmen and politicians who opposed ousted leader Thaksin Shinawatra, reported The Nation.
The legislature will appoint an interim prime minister - widely expected to be army commander Prayuth Chan-ocha - who will in turn choose a cabinet.
Thai King Bhumibol Adulyadej gave his official endorsement to the legislature on Thai television on Thursday night.
The junta took power on 22 May, ousting the elected government of Yingluck Shinawatra - Mr Thaksin's sister. The coup followed months of intense political deadlock.
The military has since since come under international pressure to hold democratic elections.
The government issued a timetable a month ago for the gradual return to civilian rule, with a general election slated for late next year.
But concerns are mounting that the junta is strengthening its hold. It issued an interim constitution last week that gives the military sweeping powers.
A national reform council is also expected to be appointed that would help to come up with a permanent constitution that would take effect by July 2015.
The junta says military rule has brought stability to Thailand following months of violent protests between the pro- and anti-Thaksin camps.
Mr Thaksin and his family remain deeply controversial, enjoying huge support from the rural poor but hated and viewed as corrupt by urban residents and the elite.