Afghan election recount stalls again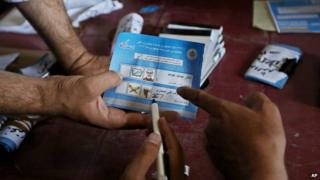 A recount of votes in the Afghan election has been suspended again, despite being scheduled to restart on Saturday after the Muslim Eid holiday.
The breakdown came despite late night phone talks between US Secretary of State John Kerry and candidates Abdullah Abdullah and Ashraf Ghani.
A spokesman for Mr Abdullah said that the UN had not taken his concerns into account.
Both candidates accuse each other of electoral fraud.
It was Mr Kerry's intervention last month in three days of talks in Kabul that led to agreement to carry out a full audit of votes.
The current dispute is over how to deal with ballot boxes found to contain invalid votes.
Mr Abdullah wants all of the votes thrown out if some in a box are found to be invalid. But the UN would prefer to discard individual votes not whole boxes.
The head of the UN in Afghanistan, Jan Kubis, said his team wants to count as many valid votes as possible, "thus honouring the courage and determination of the Afghans who voted in both rounds of the presidential election".
How rival candidates compare
Ashraf Ghani
Abdullah Abdullah
Technocrat and former World Bank official. Open to talks with Taliban
Former anti-Soviet resistance member. Wary of Taliban talks
Leading in Pashtun-dominated southern provinces
Ahead in mainly Tajik northern areas
Backed by Rashid Dostum, an Uzbek ex-warlord accused of human rights abuses
Supported by wealthy Balkh governor Atta Mohammad, a bitter Dostum rival
Has support of Qayyum Karzai, brother of President Karzai
Also has backing of Mohamed Mohaqiq, powerful leader of ethnic Hazaras
Ahmed Zia Masood, whose brother was a famous resistance hero, helped balance ticket
Gul Agha Sherzai, an influential Pashtun, helped bring ethnic balance to ticket
Karzai plan?
Saturday was the date pencilled in Afghan diaries for the inauguration of a new president.
Instead President Hamid Karzai is still in power, as the long-running and bitter dispute over who won the election to succeed him continues.
International officials had been hoping that the recount would take three weeks.
Instead it looks as if it will take many months, and still there is no clarity over what the result will mean.
Part of John Kerry's deal involved both candidates accepting a government of national unity, with one as president and the other nominating a prime minister.
But there is no clarity over how far power-sharing would go.
Mr Abdullah's vice-presidential running mate, Mohammad Mohaqiq, has accused Mr Karzai of preventing Ashraf Ghani from agreeing to the deal, making his own continuation in office more likely.
Mr Mohaqiq said Mr Karzai would "get himself into a position where is seen as the best choice."
The fact is that neither candidate is happy with the idea of a national unity government.
Both have powerful backers to satisfy, and there are not enough big jobs to go round.
They accepted it to secure some progress. But the recount matters more than anything in determining how power will shift. And the recount is once again deadlocked.
The new US envoy for Afghanistan and Pakistan, Daniel Feldman, is visiting Kabul for the first time in his new role, and already dealing with a crisis.
This feels very dangerous in a country that has so often slipped into conflict in the past.