Man convicted of Guam knife attack on tourists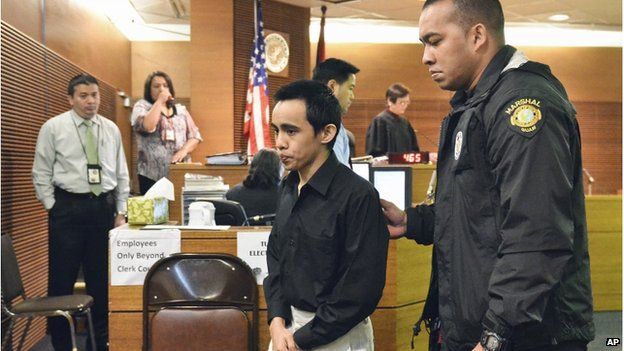 A Guam man has been found guilty of murder for a knife attack near a tourist resort last year that killed three and injured 11 others.
The incident made headlines in the small Pacific US territory.
Prosecutors argued that Chad Ryan DeSoto, 22, had planned the attack and targeted people resembling his girlfriend, who had broken up with him.
All three who died were Japanese. Guam is a popular holiday destination for Japanese tourists.
Two women, Rie Sugiyama, 29, and Kazuoko Uehara, 81, died from stabbing injuries while a man, Hitoshi Yokota, 51, died from being struck by the car.
Witnesses at Desoto's trial said he drove his car into a crowd of tourists and crashed into a convenience shop near the Outrigger Guam Resort on 12 February 2013.
He then got out and attacked bystanders with a knife, according to local media.
DeSoto was also found guilty of attempted murder. Among those who were injured and survived were an eight-month-old baby and a three-year-old toddler.
DeSoto had pleaded not guilty, claiming insanity. His defence lawyers had sought to portray him as having suffered from psychosis after his grandfather died and his girlfriend moved to the US.
He faces a maximum penalty of life imprisonment with no parole. Sentencing will take place next month.