Afghanistan elections: Audit process resumes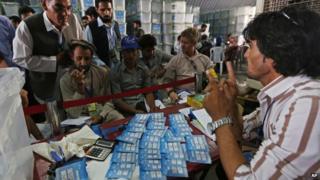 A massive operation to check eight million votes in Afghanistan's disputed elections has resumed in Kabul.
Vote-checking restarted on Sunday after a holiday break without the involvement of one of the candidates, but Abdullah Abdullah later rejoined the process.
Mr Abdullah had claimed that "widespread fraud" denied him victory over his rival Ashraf Ghani.
The vote will see power transferred from Hamid Karzai, the only president since the fall of the Taliban in 2001.
Around 23,000 ballot boxes from 34 provinces will be brought to the Independent Election Commission (IEC) headquarters in Kabul.
The boxes have been stored in provincial capitals around Afghanistan since a second round of polling on 14 June.
The audit process could take months, and comes at a time when President Karzai is due to step down and a security deal with the US is yet to be signed.
The initial audit was only agreed upon last month after US Secretary of State John Kerry held three days of talks between the candidates.
However, it stalled after disputes arose over how to deal with ballot boxes found to contain invalid votes.
'Leaked tape'
Preliminary results following the June polls had suggested Mr Ghani won the election, but both candidates have accused the other of electoral fraud.
A tape recently leaked by Mr Abdullah's team appeared to show proof of an agreement to fix the election.
The tape claimed to show current vice president Karim Khalili telling election workers of a secret deal to fix the election in favour of Mr Ghani.
Abdullah Abdullah said the leaked tape showed that the international community, as well as the current president, had been colluding in order to ensure the success of his rival.
The claim was vehemently denied by Mr Ghani's spokesman, Abbas Basir.
"I want to announce solemnly that the audio file related to his excellency the second vice president of the Islamic Republic of Afghanistan Mr Khalili is fake," he said.