Australia plans tougher travel laws over terrorism fears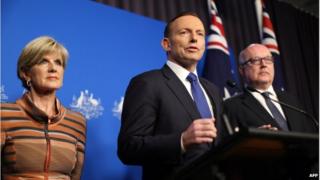 The Australian government is planning to restrict its citizens from travelling to certain countries to try to contain terrorist activities.
It will strengthen laws to target home-grown terrorists and radicalised Australians who fight with terrorist groups overseas.
Between 150 and 160 Australians are said to be fighting with militants in the Middle East, according to reports.
The move comes after Indonesia banned the Islamic State jihadist group.
Australian security agencies will now have an additional A$630m ($580m, £348m) over the next four years to boost operations, according to the Australian Broadcasting Corporation.
Prime Minister Tony Abbott told reporters that the new measures would "make it easier to identify, to charge and to prosecute people who have been engaged in terrorist activities overseas."
This would include making it a criminal offence to travel to certain areas without a valid reason.
The government is also criminalising the promotion or encouragement of terrorism, and making it easier for the authorities to grant control orders - which restrict the activities of suspects - and search warrants.
Australia's announcement follows Indonesia's banning of jihadist group Islamic State, widely known by its former name Isis, on Monday.
The Jakarta Globe reported the co-ordinating minister for political, legal and security affairs Djoko Suyanto as saying the group's ideology goes against "the unitary Indonesian nation-state and pluralism".
The government plans to monitor Indonesians travelling to countries in the Middle East and South Asia where there is armed conflict to ensure they are not joining the group.
The Islamic State says it is creating an Islamic emirate that straddles Syria and Iraq. It controls large swathes of territory in both countries.
Southeast Asian governments are becoming increasingly concerned about the growing influence of the group.
Last month the prominent jailed cleric Abu Bakar Bashir, the spiritual leader of the Jemaah Islamiah militant network, voiced support for the Islamic State, according to Indonesian media. At least 30 Indonesians are reported to be involved with the Islamic State and another jihadist group called Jabhat al-Nusra.
The Singapore government said last month that a handful of Singaporeans had gone to fight in Syria. In June, Malaysia arrested at least 15 people said to be aiding the Islamic State and recruiting people to the cause, according to local media.