Missing plane MH370: Search contractor named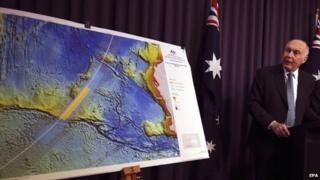 A Dutch firm has been chosen to carry out the underwater search for missing Malaysia Airlines flight MH370, Australia has announced.
Fugro Survey will use two vessels to search a swathe of the Indian Ocean.
The ships would use side-scan sonar, multi-beam echo sounders and video cameras to locate and identify the aircraft debris, a statement said.
The search of the 60,000 sq km (23,000 sq mile) area will begin in September and is expected to take up to a year.
The Malaysian plane disappeared on 8 March as it flew from Kuala Lumpur to Beijing, carrying 239 people.
Based on analysis of satellite data, it is believed to have ended its journey in seas far west of the Australian city of Perth.
Investigators do not know what happened to the flight and finding its "black box" flight recorders is seen as key to understanding the factors behind its disappearance.
One of the ships, the Fugro Discovery, was heading to Perth from the UK.
The second, Fugro Equator, is already in the search area studying the seabed topography.
Australian Deputy Prime Minister Warren Truss said Fugro was chosen because it offered "the best value-for-money technical solution" for the search.
"I remain cautiously optimistic that we will locate the missing aircraft within the priority search area," he said.
Four Malaysian vessels - two also equipped with side-scan sonar - will also assist in the search, and a Chinese vessel is currently surveying the sea floor in the area.