Pakistan says 30 militants killed in Waziristan strikes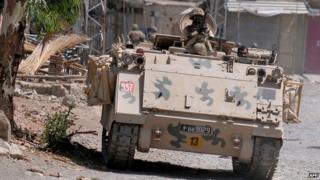 Pakistan's military says it has killed at least 30 militants in air strikes in the North Waziristan tribal region.
A statement said six "militant hideouts" had been destroyed in the Dattakhel area, some 40km (25 miles) west of the town of Miranshah.
Media access is blocked in the area and there is no way of independently verifying the claim.
The army says it has killed more than 550 militants in North Waziristan since it launched an offensive in June.
It says more than 30 Pakistani troops have also been killed during the operation.
On Monday the army said it had killed seven Uzbek militants in a shootout in the same area, just east of where Tuesday's raids took place.
At least two Pakistani soldiers also died in the gunfight.
None of any known leaders of the Haqqani militant network or about half a dozen other high-profile local and foreign groups is known to have been arrested so far.
The military conceded last month that they might have slipped out of the area after getting wind of the impending military action, the BBC's M Ilyas Khan in Islamabad reports.