Prabowo challenges Indonesia presidential election result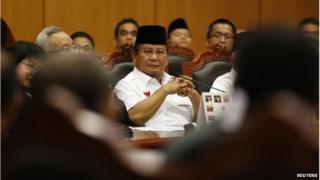 The losing candidate of the recent Indonesian presidential election, Prabowo Subianto, has launched his court challenge against the result, claiming electoral fraud.
Both Mr Subianto and his rival Joko Widodo declared victory after last month's election.
The official vote count found Mr Widodo - the front-runner - to be the winner by a six percentage point margin.
Mr Widodo, meanwhile, announced on Monday his five-member transition team.
The team and several advisers will draw up a policy roadmap as the former Jakarta governor prepares to take power in October.
No votes?
The first hearing for Mr Subianto's challenge took place at Indonesia's constitutional court on Wednesday amid tight security as hundreds of supporters turned up.
Mr Subianto's lawyers argued that as many as 24.1 million votes from more than 52,000 polling stations were "troubled", reported The Jakarta Globe, and that the violations were "structured, systematic and massive".
They alleged irregularities including voters using improper registration cards, inconsistent recounts and vote tallies which did not match. Mr Subianto, who spoke at the hearing, alleged that there were "hundreds" of polling stations that received zero votes.
Observers, however, have largely found the election process to have been conducted fairly and do not expect the court to order a full recount of the vote. Nor do they expect a shift in the vote tally that would decisively change the result, given the six-percentage-point margin.
Meanwhile Mr Widodo, in introducing his transition team, said on Monday that they would prioritise universal access to healthcare and education.
The team will be led by Rini Soemarno, an influential businesswoman who was the trade and industry minister serving under former president Megawati Sukarnoputri.
Besides planning the policy roadmap, it will draw up a list of potential cabinet ministers.
Mr Widodo last month held a poll on Facebook asking the public to choose their candidates for 34 ministerial posts.
Around 85,000 people across Indonesia took part as of last week, according to The Jakarta Post.
It is unclear how closely Mr Widodo will follow the poll results in choosing his final cabinet line-up, which will be announced by the end of September.
Mr Prabowo is a former army general closely associated with the traditional elite, while Mr Widodo, a former furniture-maker who grew up in a small village, has promised a decisive break with Indonesia's authoritarian past and better social welfare for the poor.