Bollywood star Shah Rukh Khan's dance with policewoman criticised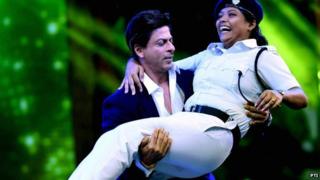 A controversy has erupted after an Indian policewoman danced on stage with Bollywood superstar Shah Rukh Khan at a police gala in West Bengal state.
Opposition politicians criticised the performance, saying that allowing the officer to dance in uniform undermined respect for the police.
West Bengal's leader Mamata Banerjee, who attended the event, was also targeted for allowing it to take place.
The policewoman and Shah Rukh Khan are yet to comment.
The dance took place at an annual state police cultural extravaganza on Saturday. Shah Rukh Khan, one of India's most popular film stars, was recently declared brand ambassador for West Bengal by Ms Banerjee.
The president of the opposition Congress Party in the state, Adhir Ranjan Chowdhury , accused Ms Banerjee of defying India's constitution by allowing the officer to dance in uniform.
"The constitution doesn't allow any person to dance like that in uniform. It's a shame that the sanctity of police uniform was allowed to be violated. By allowing the officer to dance like that, she [Banerjee] violated the constitution of India," he is quoted as saying.
Media reports also quoted the former city Police Commissioner Nirupam Som as saying "During my tenure, I would not have allowed any officer to dance like that."
But some commentators on social media dismissed the tone of the row as "humourless".