Two more South Korea conscripts in apparent suicides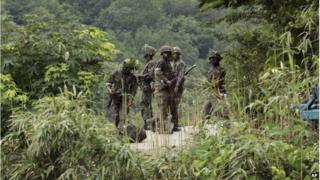 Two more conscripts have been found dead in apparent suicides in South Korea, amid an ongoing debate over the culture in the nation's military.
The two were found hanged at one of their homes in Seoul, Yonhap news agency reported.
Both had been on the military's list of conscripts in need of extra care.
In recent months concern has risen over life in the military for vulnerable young men, following several high-profile incidents.
In June a soldier shot himself, but survived, after killing five members of his unit.
A month later, two young conscripts died in apparent suicides. All three were on the watch list of individuals who were having trouble adapting to military life.
In recent days the case of a young soldier who died in April after abuse by fellow soldiers has also sparked soul-searching in South Korea.
The military says he choked on food after being struck on the chest, but a rights group says he died from blows to the head.
He is also reported to have suffered systematic abuse at the hands of fellow soldiers.
Six soldiers have been arrested and four of them face manslaughter charges.
The two men found dead in Seoul came from the same unit as the man who was abused by his colleagues.
On Monday South Korean President Park Geun-hye called for measures to ensure violence within the military was brought under control.
South Korea operates a conscription system under which all men must serve about two years.
The nation remains technically at war with North Korea and the demilitarised zone (DMZ) which divides the two nations is one of the most heavily guarded areas in the world.
South Korea's conscription period is one of the longer globally, with most conscripts aged in their early 20s.
Bullying and mental health problems have been blamed for a number of previous incidents.