'Jealous husband' sentenced to death for China killings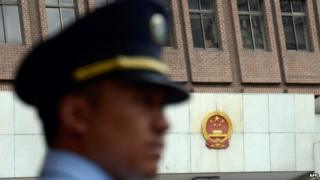 A man who killed six people over his wife's extra-marital affairs has been sentenced to death in China, state media say.
Shao Zongqi, 38, was found guilty of the January 2014 killings in Yunnan.
According to the court, Shao sought revenge after discovering his wife's affairs with two men, Xinhua reported.
One the eve of Chinese New Year, he shot nine people, killing one of the men and his family, as well as two members of the other man's family.
The other man as well as his son and mother survived the attack.
In Monday's ruling, the court awarded cash compensation of 604,000 yuan ($98,000) to the surviving family members affected by the shooting.
Shao said that he would lodge an appeal against his sentence, Xinhua reported.