Kerry marks Solomon Islands war history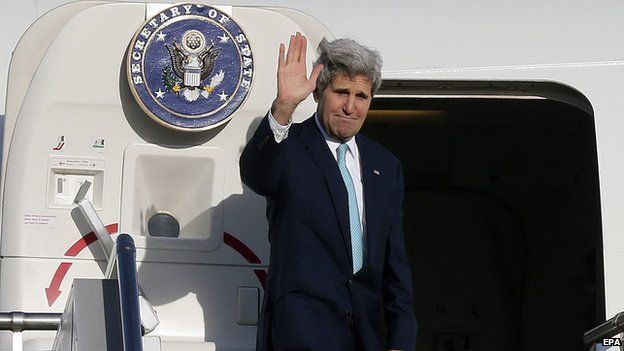 US Secretary of State John Kerry has paid tribute to those who fought in the Solomon Islands in World War Two during a brief visit to the Pacific nation.
It is the first time a US secretary of state has visited the country.
Mr Kerry, who arrived from defence talks in Australia, visited a US war memorial in Guadalcanal island.
He also laid a wreath at the Solomon Scouts and Coastwatchers Memorial to pay tribute to two men who rescued former US President John F Kennedy.
In Honiara, Mr Kerry met government officials including Prime Minister Gordon Darcy Lilo to discuss climate change issues, following flash floods in April.
Honiara is in Guadalcanal, the main island in the Solomons.
The Guadalcanal campaign took place between August 1942 and February 1943, as Allied troops sought to force the Japanese from the Pacific base.
Mr Kerry visited the "Bloody Ridge" battlefield, where US Marines fought Japanese troops in September 1942.
"The Guadalcanal campaign was simply the turning point," Mr Kerry said. "The bond between our nations remains stronger than ever as it was forged right here on 7 August 1942 [when US Marines landed]."
The two scouts who aided John F Kennedy in 1943 were Eroni Kumana and Biuku Gasa, who worked with Coastwatchers tasked with observing enemy movement in the Pacific.
They provided his patrol boat crew - washed up on an atoll after a Japanese attack - with food and water.
They then risked their lives to deliver a message which launched a rescue mission. Both men have since died, Eroni Kumana just earlier this month at the age of 93.