Pope Francis urges inter-Korean reconciliation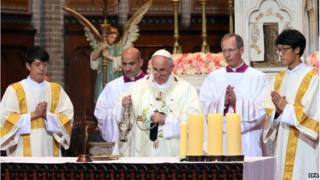 The Pope has called for reconciliation on the Korean peninsula, on the final day of his visit to South Korea.
Koreans, Pope Francis said, should reject a "mindset of suspicion and confrontation" and find new paths to build peace.
He spoke at a Mass in Seoul's main cathedral attended by President Park Geun-hye and North Korean defectors.
The service coincided with the start of major US-South Korea military exercises.
The annual drills, called Ulchi Freedom Guardian, last for 12 days and involve some 80,000 US and South Korean service personnel.
The exercises always enrage North Korea, which has in recent weeks conducted a series of short-range missile tests - including one as the Pope arrived.
It has threatened a "merciless" retaliatory strike in response to the drills.
The two Koreas remain technically at war after the 1950-53 Korean War, which ended in an armistice and not a peace treaty.
Speaking at Myeongdong Cathedral, the Pope said all Koreans were "brothers and sisters, members of one family, one people".
"Let us pray for the emergence of new opportunities for dialogue, encounter and the resolution of differences," he said.
He also called for generosity in providing humanitarian assistance to those in need, and urged Koreans to work together as one, "with no victors or vanquished".
Representatives from North Korea's state-run Korean Catholic Association were invited to attend the Mass, but Pyongyang rejected this offer.
Also at the service were seven elderly women forced to work as prostitutes for Japanese troops during World War Two.
One of the women gave the pontiff a gold butterfly pin - a symbol of their continuing struggle for justice - which he wore during the Mass.
Pope Francis, who on Saturday beatified 124 Koreans who died for their faith in the 18th and 19th Centuries, later flew out of Seoul. He will visit the Philippines and Sri Lanka in January.
Enroute to Rome, he sent a telegram to Chinese President Xi Jinping as a follow-up to a message he had sent when he flew over China to South Korea on Thursday.
"Returning to Rome after my visit to Korea, I wish to renew to your excellency and your fellow citizens the assurance of my best wishes, as I invoke divine blessings upon your land," he said.
The Vatican and Beijing have no formal ties, but the decision to let the Pope fly through Chinese airspace is being seen as a possible sign of warmth.
When Pope John Paul II visited Seoul in 1989, he had to fly through Russian airspace to get to South Korea.
---
Media reaction to the visit:
Pope Francis had "awed and moved South Koreans not just with his signature beaming smiles and comforting words, but through his humble, tender and sincere demeanour", said the South Korean JoongAng daily.
Seoul-based Korea Times said: "It would be too much to expect our deep-rooted conflicts and divisions to be healed overnight in the wake of the pope's landmark visit... none but us can resolve our problems."
"The pope has brought a rare voice of selflessness and care for the needy to an increasingly materialistic society," said South Korean newspaper Hankyoreh.
There was no North Korean reaction to the visit, apart from a denial that a rocket launch on Friday was timed to coincide with his arrival. "We would like to ask the Pope why he set about his South Korean trip the day when we are making latest tactical rocket test-fire according to our regular plan, though there are a lot of days in the year," state news agency KCNA wondered.
---