PNG police charge two over Australia asylum camp murder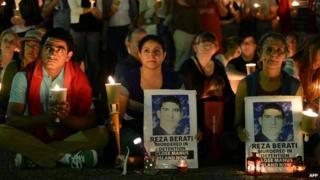 Police in Papua New Guinea have charged two men with the murder of a man seeking asylum in Australia, according to reports in the Australian media.
At least one suspect worked for G4S, which was hired by the Australian government to manage detention centre security on PNG's Manus Island.
Iranian Reza Barati, 23, was killed in violence at the controversial detention centre in February.
A recent report said he died after a "large stone" was dropped on his head.
Police were still looking for other suspects, according to reports by the Australian Broadcasting Corporation and Fairfax Media.
An official report on the February violence quoted eyewitnesses as saying Mr Barati was beaten up by a group of more than 10 people comprising PNG and Australian G4S guards and local residents who had entered the detention centre.
A PNG local resident is said to have struck Mr Barati on the head with the stone.
---
Australia and asylum
Asylum-seekers - mainly from Afghanistan, Sri Lanka, Iraq and Iran - travel to Australia's Christmas Island on rickety boats from Indonesia
The number of boats rose sharply in 2012 and the beginning of 2013, and scores of people have died making the journey
Everyone who arrives is detained. The previous government reintroduced offshore processing in Nauru and Papua New Guinea. Those found to be refugees will be resettled in PNG, not Australia
The new government has toughened policy further, putting the military in charge of asylum operations and towing boats back to Indonesia
Rights groups and the UN have voiced serious concerns about the policies. Australia says no new asylum boats have arrived for 200 days
---
The violence took place between 16 February and the early hours of 18 February, as tensions at the camp boiled over.
A protest by detainees led to the entry of PNG paramilitary police and PNG local residents into the centre, and a night of violence that left dozens of asylum-seekers injured.
A number of investigations were launched into the incident but these are the first arrests in connection with the case.
Children detained
The Australian government has faced criticism in recent months over its policies on asylum-seekers arriving by boat.
All those who arrive by boat are placed in mandatory detention. Since July 2013, these people have been placed in camps in Nauru and Papua New Guinea and, if their asylum claims are successful, they will be resettled in those two countries instead of Australia.
Rights groups and the UN have voiced strong concern over conditions in the offshore camps, as well as the camp on Christmas Island, which is an Australian territory.
On Tuesday Australia's Immigration Minister Scott Morrison announced plans to release some asylum-seeker children.
At least 150 children and their families would be given bridging visas, which would allow them to live in the accommodation of their choice and receive state help while waiting for their asylum claims to be processed, he said.
But only those housed in detention camps on mainland Australia are eligible, not those detained in Nauru or Christmas Island.
A statement by the minister's office said there were currently 876 asylum-seeker children in held detention and 1,547 in community detention.
Mr Morrison's announcement comes days before he is due to testify at a human rights inquiry on children in immigration detention.
Recent reports by a church group and Australia's top human rights official have highlighted the adverse effect of detention - particularly in the offshore camps - on children.