Thailand coup General Prayuth Chan-ocha named PM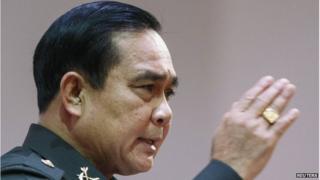 Thailand's junta leader Prayuth Chan-ocha has been named the new prime minister of the southeast Asian nation.
Gen Prayuth, 60, was nominated on Thursday in a legislature hand-picked by the junta and made up of mostly military and police figures.
The general was the head of the army when he led a dramatic coup in May.
It followed months of intense political deadlock between Yingluck Shinawatra's government and opposition parties that resulted in protests and clashes.
Gen Prayuth was chosen after members of Thailand's National Assembly cast their votes on Thursday morning.
The BBC's Jonathan Head in Bangkok says the vote in Parliament was little more than a formality, lasting just 15 minutes, as Gen Prayuth was the only candidate.
The Bangkok Post quoted Gen Prayuth as saying he was not approached before he was nominated. Asked whether he was ready for the post, he said: "I only want the country to move forward."
The assembly's choice is expected to be approved by King Bhumibol Adulyadej later.
---
Analysis: Jonathan Head, BBC News, Bangkok
The vote in that ushered in Thailand's 29th Prime Minister was the kind of rushed acclamation favoured by dictatorships and communist parties of old. In just 15 minutes, assembly members approved General Prayuth Chan-ocha, who was the only candidate, by 191 votes to 0.
As some pointed out before the vote, the general now exercises such complete grip on power there was not much point in considering anyone else. Fittingly, Gen Prayuth was not in parliament for the vote - instead he was attending a ceremony at his old regiment, whose alumni form the core of the coup-makers.
His next task is to appoint a 35-member cabinet, and to oversee the establishment of a 250-member reform council, which is supposed to carry out a root-and-branch reform of politics and government. It is a hugely ambitious agenda.
How successful Gen Prayuth is will depend on how skilfully he uses the formidable hand he now holds. Critics say he is abrupt and impatient, with deeply conservative outlook. His fans describe him as decisive, and a good listener.
Given the way the military has smothered dissent since the coup, there has been little visible opposition so far. That may change as they tackle more difficult issues.
---
Although his role is meant to be an interim one as the military plans to hold a general election in late 2015, our correspondent says Gen Prayuth now wields enormous power- he also still heads the military junta.
He is expected to pick his new cabinet soon.
He has promised a root and branch reform of politics to prevent a return to the turmoil of recent years, offering a possible restoration of democratic rule next year.
However critics believe his real priority is to destroy the political party of former Prime Minister Thaksin Shinawatra, which has won every election for the past 14 years, and to secure a delicate royal succession.
Such goals would require a much longer democratic timetable.
---
Prayuth Chan-ocha
Began military career in the prestigious Queen's Guard unit, before rising to become a commander in the King's Guard
Took over as head of army in October 2010
Led the coup on 22 May that ousted Yingluck Shinawatra's civilian government, claiming military intervention was needed to bring stability to the country
Seen as a staunch royalist and has favoured a tough stance on the "red shirts" who support former PMs Thaksin Shinawatra and his sister Yingluck
Made interim prime minister on 21 August
Due to retire from the army in September
Full profile of Prayuth Chan-ocha
---
Concerns have mounted that the military is seeking to strengthen its hold on the country.
Besides hand-picking the national assembly, the junta issued an interim constitution in July that gives the military sweeping powers.
It is appointing a national reform council that would help to come up with a permanent constitution that would take effect by July 2015.
But Gen Prayuth and junta officials have argued that military rule has brought stability to Thailand following months of violent protests between the pro- and anti-Thaksin camps.