Xi Jinping: The heir to Deng Xiaoping?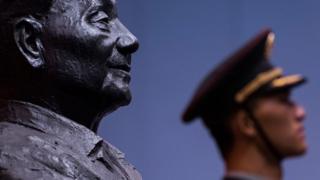 Anyone paying attention to television, books and public life in China over the last few months could not fail to realise that the country has once again entered a phase which can only be called "Deng Xiaoping time".
As one of China's most renowned leaders - he oversaw the economic liberalisation and opening up of the country as well as the Tiananmen Square massacre - it is not the first time the country has gone into paroxysms over his legacy.
What is different this time round are the comparisons being made with current leader Xi Jinping.
Take the People's Daily, the newspaper of China's ruling Communist Party, which last week highlighted Mr Xi's aspiration of chasing what it called the "China Dream" during his first 18 months in office.
It spoke of him pushing through reforms with "magnitude and intensity", his "iron-fisted" anti-corruption campaigns, as well as his diplomatic efforts in mapping out Chinese foreign policy.
A recent media study also found the paper had mentioned Mr Xi's name 4,186 times since he came to power, far outstripping mentions of his predecessors Hu Jintao and Jiang Zemin during the same period of time.
The frequency of his name comes second only to Chairman Mao - a remarkable fact.
In an editorial piece published in June, pro-China newspaper Ta Kung Pao, credited Mr Xi as being "a top designer" of China's further reforms. And in labelling him the country's "chief architect" there were deliberate echoes of Deng Xiaoping who was also described that way.
Power play
"There is no doubt that Xi is the most powerful leader since Deng Xiaoping," Chinese political analyst Deng Yuwen told the BBC.
Mr Deng said Mr Xi's power had two aspects.
Firstly, and most obviously, as Chinese president and Communist Party secretary he has power over the Chinese military and the Communist Party.
He now has responsibility for the day-to-day running of government offices and the economy, roles which used to belong to the prime minister but Mr Xi has effectively taken them over and Premier Li Keqiang can only play a supporting role.
"From this perspective, he is even more powerful than Deng Xiaoping was," Mr Deng said.
Secondly, he inaugurated a series of what were labelled as "important speeches". "It is reported that over 10 million of his speeches were sold during the past two months." Mr Deng said, "The efforts in promoting Mr Xi have rarely been seen since the Mao era."
This is simply sheer self-promotion, but a notable phenomenon.
In an interview with the New York Times, Bao Tong, a former secretary to ousted Party General Secretary Zhao Ziyang, said Xi Jinping was leading in Chairman Mao's style but was going down the route of Deng Xiaoping.
'Different times'
But power does not necessary mean authority and it cannot guarantee historical achievements. This may be the biggest illusion when comparing President Xi with Deng Xiaoping.
Dr Kerry Brown, a Chinese politics professor from the University of Sydney, believes comparison with Deng is not meaningful.
"They live in different times. Deng Xiaoping faced entirely different challenges going through revolutionary wars. He re-emerged as leader in his mid-70s whereas Xi Jinping took over the party's helm before he reached the age of 60. Therefore, the analogy between the two makes no sense," he said.
He adds that Mr Xi hopes to achieve success and emulate Mr Deng's legacy - but it was still too early to judge.
"What Deng did was unique and completely changed the direction of Chinese development. Xi Jinping is following the framework of Deng Xiaoping's policies but hasn't created anything new," he said.
With more than eight years in office, what can Xi Jinping do to achieve a similar status to Deng Xiaoping?
A professor from China's Central Party School, who did not wish to be named, told the BBC that part of Mr Xi's plan in tackling corruption was to "narrow the gap between rich and poor".
"Under Deng Xiaoping, a handful of Chinese get rich first. What Xi can do is to let more people get rich. If he can achieve common prosperity then he can be regarded as a great leader."
Deng Yuwen said the legacy of Deng Xiaoping was that he changed the course of Chinese history. Xi Jinping may hope to obtain such a status but his ability to do so remains in question.
"If one is to measure in economic terms, if China's overall national strength improves further, that would be a great achievement," he said.
But that may not be enough to be remembered the way Mr Deng is. So Deng Yuwen has one final observation.
"If Xi Jinping can use his power to create freedom and democracy in China then he will be able to reach a new historical high. After all, Deng Xiaoping did not do much in that arena."