Pakistan military to mediate amid protest stand-off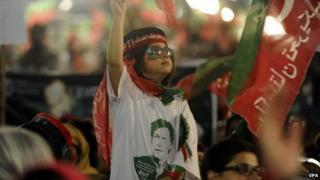 Pakistan's powerful army chief has stepped in to the political deadlock between the PM and two opposition figures leading huge anti-government rallies in the capital, Islamabad.
Cleric Tahir ul-Qadri told thousands of his followers that General Raheel Sharif had asked to be given a day in which to mediate.
His ally, cricketer-turned-politician Imran Khan, echoed his comments.
The two opposition figures want PM Nawaz Sharif to resign.
The move appears to mark a return to politics of the military, barely a year after Pakistan's first democratic transfer of power.
The BBC's Shahzeb Jillani says it is the first time in the current political crisis that the army chief has overtly taken a central role as a mediator.
Senior Pakistani politicians have denounced the move, with one constitutional expert called it "a moment of collective disgrace for all politicians across the political spectrum".
Our correspondent says the Pakistani military has a history of meddling in the country's politics. Many suspect the current crisis was encouraged by elements in the army to weaken the civilian government of Mr Sharif. Publicly, both the army and the government deny this.
'24 hours'
It was not immediately clear who made the initial request for the army chief to mediate the impasse, says the BBC's M Ilyas Khan in Islamabad.
Mr Sharif said he had received a call from an army official asking whether he would accept a request from the two opposition figures for the army chief's mediation.
Mr Qadri denied this, saying instead that the request was made by Mr Sharif himself.
Protesters led by Mr Qadri and Mr Khan have been demonstrating in Islamabad for two weeks, after travelling from Lahore.
Both protest leaders want a change of government, with Mr Khan claiming that last year's general elections, which brought Mr Sharif to power, were fraudulent.
Mr Qadri wants Mr Sharif to face charges over the deaths of 14 demonstrators near Lahore in June. On Thursday police named the prime minister as a suspect in the case, officials said.
But, say correspondents, it is not automatic that Mr Sharif will be arrested and appear in court, because this is only a preliminary investigation following the filing of a complaint.
Late on Thursday night, Mr Qadri told thousands of supporters that Gen Raheel had offered to mediate.
"The army chief has asked us to give him 24 hours to solve the crisis," he said.
"The army will compile and put together a package of our demands and make sure they are implemented."
Mr Khan later confirmed the move, saying "the talks have already started".
The announcement came after Mr Sharif met the army chief earlier in the day for talks on the stand-off.
The protests have been peaceful so far, but thousands of people have been demonstrating in the capital's Red Zone, home to government buildings and embassies.