Myanmar beauty queen loses title for being 'dishonest'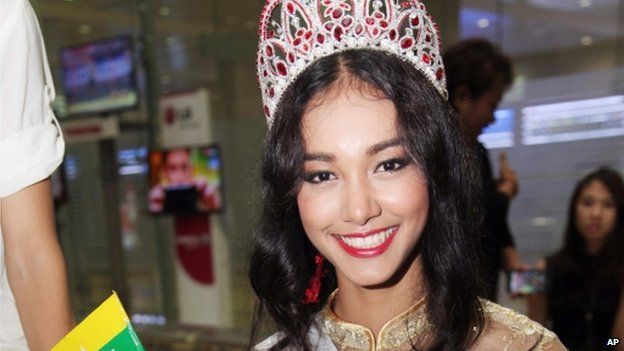 A Myanmar beauty queen has been stripped of her title after South Korean organisers claimed she was ungrateful and acted dishonestly.
May Myat Noe had won the Miss Asia Pacific World 2014 competition held in Seoul in May.
Organisers said in a statement she had "lied" to them and did not show them respect. It did not give more details.
The BBC understands that her mother and organisers disagreed over how Ms May would be managed.
The Miss Asia Pacific World Super Talent Organization said in a statement reported by regional media that Ms May had "lied and never had respect" for the organisers.
It said her "ungrateful attitude" and the issue of her trustworthiness were among the main reasons why it was dethroning her.
They told the Associated Press that the 18-year-old, who was given singing and video deals, had left with the tiara, worth at least $100,000 (£60,000).
The BBC's Jonah Fisher says Ms May's mother appears to have wanted to retain control over her daughter's career, but under the terms of the competition, the winner effectively works for the organisers.
It is thought that Ms May is now back in Myanmar, also known as Burma.
The Myanmar-based organiser, Hla Nu Tun, said she had been tasked with trying to retrieve the tiara and sash.
Our correspondent says many on Facebook have sympathised with Ms May and have criticised the pageant organisers, calling their statement amateurish.