Thailand PM Prayuth Chan-ocha unveils military-heavy cabinet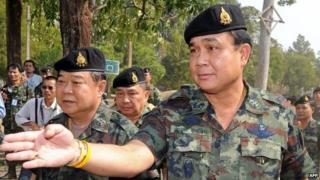 Thai military leader and Prime Minister Prayuth Chan-ocha has named a cabinet featuring serving or former generals in more than one-third of positions.
The military veterans will run key ministries including defence, justice, foreign affairs and commerce.
On Monday Gen Prayuth was officially appointed prime minister following endorsement by the king.
Gen Prayuth led a coup against an elected government in May, saying it was necessary to preserve stability.
He was nominated for the post of prime minister earlier this month by a legislature hand-picked by the junta. He was the only candidate.
He is meant to be an interim prime minister as the military plans to hold a general election in late 2015.
But concerns have mounted that the military is seeking to strengthen its hold on the country.
---
Prayuth Chan-ocha
Began military career in prestigious Queen's Guard unit
Rose to become a commander in the King's Guard
Took over as head of army in October 2010
Led 22 May coup that ousted Yingluck Shinawatra's civilian government, claiming military intervention was needed to bring stability
Seen as a staunch royalist, he has favoured a tough stance on the "red shirts" who support former PMs Thaksin Shinawatra and his sister Yingluck
Made interim prime minister on 21 August
Due to retire from the army in September
Prayuth Chan-ocha: Full profile
---