Nuclear vow at Japan-India talks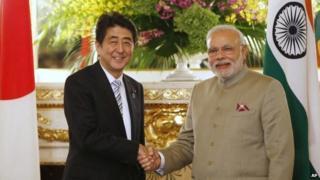 Indian PM Narendra Modi and Japan's Shinzo Abe have agreed at a summit in Tokyo to accelerate talks on a nuclear energy pact.
They also agreed to strengthen security ties and Mr Modi welcomed Japan's easing of restrictions on exports of defence equipment and technology.
Mr Modi is on his first major foreign visit since winning May's election.
The trip is being seen as an attempt by the two democracies to balance the rising weight of China across Asia.
Mr Modi arrived in Japan on Saturday and visited the former imperial city of Kyoto over the weekend.
"The two prime ministers reaffirmed the importance of defence relations between Japan and India in their strategic partnership and decided to upgrade and strengthen them," the leaders said in a joint statement after their summit.
Mr Modi also welcomed Japan's relaxation of restrictions on transfer of defence equipment and technology.
The two prime ministers "recognised the enormous future potential for transfer and collaborative projects in defence equipment and technology between the two countries", the statement added.
The two sides said they would speed up talks on nuclear energy co-operation and claimed "significant progress" although they failed to reach a last-minute agreement on safeguards sought by Japan.
Delhi and Tokyo set a target to double Japan's direct investment in India in five years from some $2bn (£1.2bn) last year.
Prime Minister Abe also pledged to raise public and private investment and financing from Japan to 3.5tn yen ($33.6bn; £20bn) within five years and to provide an aid loan of 50bn yen ($480m; £289m) to the India Infrastructure Finance Company.
'New chapter'
The statement also listed construction of high-speed railways and other transport systems, cleanup of the Ganges and other rivers, rural development and development of "smart cities" as areas where the two countries could co-operate.
Tokyo and Delhi also finalised an agreement to allow import of rare earths from India as Japan looks to diversify supply away from China.
Rare earth materials, vital in the manufacture of mobile phones and other high-tech products, are expensive to extract, and their processing comes with considerable environmental factors.
India and Japan also agreed to hold regular joint training exercises in maritime defence - some of which will involve the US - and to accelerate talks on the purchase by Delhi of US-2 amphibian aircraft.
Over the weekend in Kyoto, Mr Modi witnessed the signing of an agreement under which his parliamentary constituency of Varanasi will be developed as a "smart city" in partnership with the Japanese city.
Ahead of the visit, Mr Modi had said he expected the visit "will write a new chapter in the annals of the relations between Asia's two oldest democracies and take our strategic and global partnership to the next higher level".
Correspondents say the visit reflects Mr Modi's attempt to balance ties with key world powers and to strengthen India's position in the international community.
The visit is taking place in the backdrop of China's growing clout in Asia, as both Delhi and Tokyo have a history of tensions with Beijing linked to territorial disputes.