Philippines arrests three over 'anti-China' firebomb plan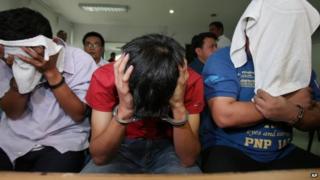 Philippine police have arrested three men suspected of planning "anti-China" firebomb attacks at several locations in Manila, officials say.
The men planned to set off homemade devices at targets including the airport, Chinese embassy and a Chinese-owned shopping mall, officials said.
The three men were arrested on Monday at a car park at the airport.
They were angry at the government's "soft stance" towards a territorial row with Beijing, an official said.
"They want this administration to espouse a tougher stance in its dispute with China," Justice Secretary Leila de Lima said, referring to ongoing tensions over the South China Sea.
Ms De Lima said the men were part of a "misguided group" that claimed to be "defenders of the Filipino people". She said more people were believed to be involved in the group's activities.
Police found four home-made devices in the men's van.
The Philippines army, however, played down the incident, describing the men as "pranksters".
"This was just comic relief to get attention. It was not a terrorist attack," Military Chief General Gregorio Pio Catapang told journalists, adding the devices were "just firecrackers".
China and the Philippines have overlapping territorial claims in the South China Sea, including the Scarborough Shoal - the scene of a lengthy stand-off in 2012.
Manila has taken the issue to the UN court in The Hague.