Abbott in India over uranium deal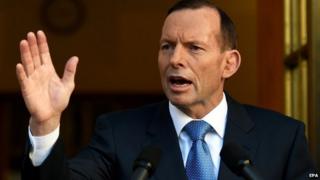 Australian Prime Minister Tony Abbott has arrived in India for a two-day visit, with a deal on uranium sales high on the agenda.
Mr Abbott will stop first in Mumbai before meeting India's newly-elected PM Narendra Modi in Delhi on Friday.
He says he is "hoping to sign" an agreement allowing Australian uranium exports to India.
Australia, which holds an estimated 40% of the world's uranium, already exports it to China, Japan, Taiwan and the US.
The country has not sold uranium to India in the past because it is not a signatory to the Nuclear Non-Proliferation Treaty.
But the two nations began talks on a deal in 2012, after the previous Labor government overturned its long-standing ban.
Trade Minister Andrew Robb said earlier this week that Australia believed adequate safeguards were in place to ensure the uranium was used for civilian purposes only.
"The negotiations and work that's gone on between authorities in India and Australia have gone on for some years to develop a bilateral nuclear co-operation agreement which meets the international requirements and we are satisfied... that all the requirements have been met," he said.
India is currently heavily dependent on coal for energy but has a small nuclear energy sector which is plans to greatly expand in the future.
Ahead of Mr Abbott's arrival, an official said India expected "significant outcomes" from the visit.
"For us, Australia is a major supplier of resources, particularly energy necessary for our development needs," said Sanjay Bhattacharya, Indian foreign ministry joint secretary.
The US reached a deal with India on civilian nuclear co-operation in 2008.