North Korea 'to repatriate South man'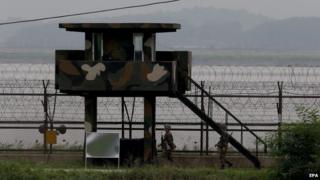 North Korea says it will repatriate a South Korean man who entered the country illegally.
He was detained after entering via a third country, North Korea said, adding that he wanted to live in the North after "finding it difficult to live" in the South.
North Korea said it would return him via the truce village of Panmunjom in the demilitarised zone on 11 September.
South Korea said it was happy to take the man back.
There is a significant flow of people from North Korea to South Korea via China, but movement the other way is very rare.
North Korea has returned South Koreans in the past. In October last year it repatriated six men. Their names were not released and details surrounding their detention in the North remain unclear.
That repatriation was seen as a conciliatory gesture by the North.
The two Koreas remain technically at war in the wake of the 1950-53 Korean War, which ended in an armistice rather than a peace treaty.
The heavily-fortified demilitarised zone separates them and ties remain tense.
Seoul wants Pyongyang to end its nuclear weapons programme, but talks on the issue have been stalled for years.
North Korea has conducted a series of missile tests in recent months, prompting warnings from Seoul. But Pyongyang is also keen to improve economic links with its far richer southern neighbour.
'Execution'
In South Korea, meanwhile, officials are investigating a parcel containing a knife and a threatening letter sent to the country's defence minister.
The parcel, which also contained a white powder later identified as flour, was found by a delivery man.
It was addressed to Han Min-koo and a letter inside accused the minister of bringing "a fire cloud of a nuclear war to the Korean peninsula".
A possible suspect had been seen on CCTV footage, Yonhap news agency said.
The man, in his 20s or 30s, was seen sending the parcel via a delivery service at a convenience store, the agency said.
"We are open to every possibility, including the suspect's possible linkage to North Korea," it quoted a defence ministry official as saying.
The Defence Ministry said that the knife had the words "Han Min-koo" written on one side and "execution" written on the other.
The letter was signed by the "International Peace Action Corps", an organisation officials said did not exist.