India Pakistan floods: Kashmir city of Srinagar inundated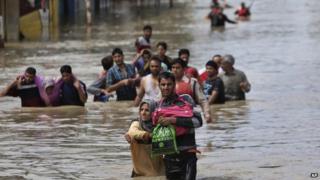 Devastating floods have left much of the main city of Indian-administered Kashmir under water, as residents are evacuated or retreat to their rooftops.
Soldiers are battling to rescue thousands of trapped residents of Srinagar and the surrounding region.
The floods, resulting from the late-monsoon rains, have left more than 270 people dead in India and Pakistan.
With hundreds of villages submerged and many areas cut off, there are fears the true picture may be much worse.
Indian Prime Minister Narendra Modi flew over the Kashmir valley on Sunday, declaring the floods a "national level disaster" and promising almost $200m in aid and compensation.
Situation 'worsening'
Five days of heavy rain abated over the weekend, but flood waters in Srinagar rose dramatically overnight Saturday to Sunday.
Many people were caught unawares by the flood waters.
"I could not save anything as the government did not issue any flood warning," said Abdul Aziz, quoted by Reuters news agency.
"The majority of my neighbours who were sleeping are still trapped in their homes."
Kashmir Chief Minister Omar Abdullah tweeted that the situation was unprecedented and worsening as flood waters moved rapidly through the city.
He said boats had been brought from Delhi to help with evacuations, and the air force was beginning rescue operations in the city.
The chief minister said at least 110 people had died throughout the state, but media reports have put the figure as high as 175.
About 400 villages have been completely submerged by the floods, with several thousand others hit.
More than 160 people are reported to have died in Pakistan, with flood waters washing away houses and triggering landslides in Punjab and Pakistan-administered Kashmir.
The flooding is being described as the worst in two decades.
On Thursday, a bus carrying about 50 members of a wedding party in Indian-administered Kashmir was swept into a gorge, killing dozens. The bride and groom were among those feared dead.
Are you in the flood region? Email your experiences to haveyoursay@bbc.co.uk, adding your contact details.