Pakistan Qadri protesters 'paid'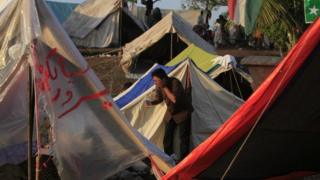 Protesters in Pakistan have told the BBC they were paid to join rallies for "three or four days" but are now being denied permission to return home.
Thousands, led by former cricketer Imran Khan and cleric Tahirul Qadri, occupied parts of Islamabad, in an effort to topple the government.
Much of Mr Khan's support thinned out as the weeks wore on.
But some of Mr Qadri's supporters, who wished to leave, have told the BBC Urdu they were threatened by party leaders.
Mr Qadri's Pakistan Awami Tehrik (PAT) party's deputy information secretary, Omar Riaz Abbasi, denied the party had paid or threatened protesters.
"All the people in the 'revolution' march have come here of their own free will. No one forced them, or paid them money," he said.
Mr Qadri's supporters have appeared more resilient, with many setting up tent villages occupying central roads in Pakistan's capital.
But the BBC heard from students who said they had been paid to attend but also prevented from leaving, in an effort to recruit demonstrators and maintain the momentum of the protest.
"A local leader of Mr Qadri's party told my parents he was taking me away for Mr Qadri's 'revolution' march, and that I would come back in about three days' time," Naveed, 16, a 10th grade student from Bahawalpur region of Punjab, told the BBC.
His real name has been withheld for security reasons.
He said his parents were paid 6,000 rupees ($60), which they accepted happily. He added that he came to Lahore with a contingent of 300 other school students from his area, all of whom were "hired" in the same way.
He also said that some of the boys who sustained injuries during recent clashes with the police and received first aid at the hospital had also been refused permission to return to their homes.
"The party leaders told us they had their people posted on all bus stands and if they saw any of us trying to catch a bus, they would send us to the 'next world' and tell our families we were killed by the police," he said.
Meanwhile, a resident of Gujranwala city near Lahore, Mohammad Aslam, told BBC that PAT activists "hired" around 100 women, most of them domestic workers, from the city's suburbs.
"Early last month there were announcements made from loudspeakers mounted on vehicles in these areas, offering 10,000 rupees ($100) per head to women who would join PAT's march," he said.
"They said they would pay an additional 5,000 or more to women who would bring along infants or children under 10 years of age."
The PAT's spokesman rejected all these allegations, adding that Mr Qadri had recently allowed about 800 protesters to go home because they had school exams coming up or other reasons to leave.