Body found after Australian family shot dead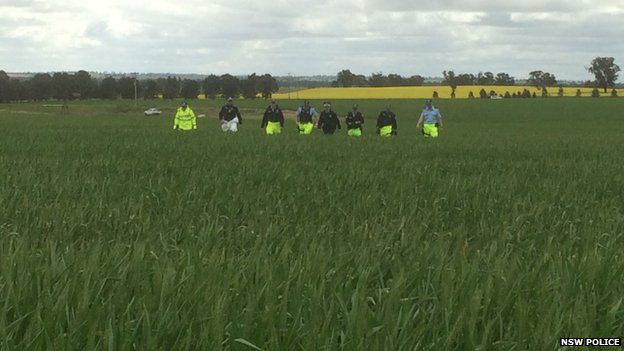 Australian police have recovered a body and a gun from a dam near a rural New South Wales farmhouse where a woman and her three children were found dead.
The bodies of Kim Hunt, 44, her daughters Mia and Phoebe, eight and six, and 10-year-old son Fletcher were found by police on Tuesday afternoon.
The fifth body has not been identified but police have discontinued the search for Mrs Hunt's husband, Geoff.
Police divers recovered the body during their search on Wednesday afternoon.
"We have five dead people. We believe they were all members of the same family," Wagga Wagga Police Superintendent Bob Noble said.
"There's nothing to lend us to believe that there are any other victims or persons of interest."
In a statement, New South Wales police said officers went to a home in Lockhart about 15:00 on Tuesday and found four bodies.
"While a post mortem will be conducted to formally establish the cause of their deaths, they are believed to have all suffered gunshot wounds," they said.
Mrs Hunt's body was found on a path behind the farmhouse, while her children's bodies were discovered inside the house.
During their search, police also found Mr Hunt's car near a dam not far from the property. It was from this dam that the fifth body was recovered on Wednesday afternoon.
Supt Noble said the body had "significant injuries which were not inconsistent" with the other four bodies.
Local media also reported evidence of a suicide note but police declined to comment.
Supt Noble earlier described the crime scene at the Lockhart farmhouse as "horrific".
"I don't think even the most hardened professional could remain unmoved by what's out there," he said.
Local mayor Peter Yates told Australian media that the deaths had "devastated" the local community.
"I know the family, they're a well-respected farming family and it's just so devastating. We are all saddened by it," he said.