Hundreds mourn death of Bangladesh singer Firoza Begum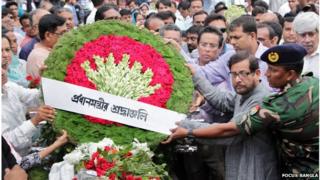 Tributes have poured in for legendary Bangladeshi singer Firoza Begum who has died in Dhaka at the age of 84.
President Abdul Hamid and Prime Minister Sheikh Hasina have expressed shock and grief at her death.
Local media reported that hundreds paid their last respects at her coffin at national monument Shaheed Minar.
Born to an aristocratic Muslim family, Firoza Begum is best known for singing Nazrul Sangeet, musical work composed by Bengali poet Kazi Nazrul Islam.
Her sensitivity in conveying deep feeling was said to have helped to revive the genre and made her a household name.
Many of the songs in Nazrul Sangeet relate to the Indian independence movement although others are spiritual or romantic.
Local media reported that the singer had been suffering from kidney complications and a heart problem.
Firoza was bestowed with numerous honours including the Independence Day award, the highest given out by the Bangladeshi government.
She was considered a trailblazer by some. News portal Bdnews24 reported that in her time, it was "almost unthinkable" for a Bengali Muslim girl to be trained in music.
But Kazi Nazrul Islam, who met Firoza at an audition, was said to have been impressed by her vocal talent. She would go on to cut her first record when she was 12 years old.
She performed around 300 solo concerts in her career, said Bdnews24.
Firoza's first marriage was to composer Kamal Dasgupta. Following his death in 1974 she married musician Mansur Ahmed.
She leaves behind three sons: Tahsin, Hamin and Safin.