Shanghai Co-operation Council emerges as rival to West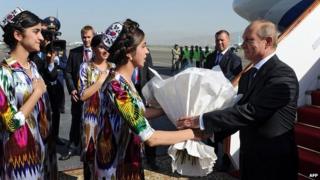 A week ago, on Welsh golfing greens, President Obama stood with Nato family and friends to announce the formation of a "core coalition" to tackle the growing threat posed by Islamic State (IS) fighters in Iraq and Syria.
Then, on the day he announced the shape of his new strategy, leaders in another alliance were gathering in a presidential pine forest in Dushanbe for the annual summit of the Shanghai Co-operation Council (SCO).
Some of the SCO's most powerful players meeting in the Tajik capital have the ability to strengthen, or scupper, some of Washington's best-laid plans in Iraq and Syria.
For some, this widening alliance in the East is an antidote to Nato.
Observer nations like Iran, India and Pakistan are keen to become formal members of a bloc forged 13 years ago between Russia, China and newly independent Central Asian states.
Even Turkey is now a "dialogue partner". It had earlier been shunned for its closeness to the West, including Ankara's backing for Syrian President Bashar al Assad's armed enemies.
This summit will turn Dushanbe into the "geopolitical centre of the world", Tajik Deputy Foreign Minister Parviz Davlatzoda told journalists here.
Russia's Vladimir Putin and Iran's Hassan Rouhani are certain to make common cause on some fronts. Both are under Western sanctions - Russia for its actions in Ukraine, Iran for its nuclear programme. Both are steadfast supporters of President Assad, providing critical support that helped Syria's embattled leader survive far longer than many ever expected.
Both may be encouraged by President Obama's remarks on "pursuing the political solution necessary to solve Syria's crisis". Gone was Washington's incessant call for President Assad to step down that has long fallen on deaf ears in Damascus, Moscow and Tehran.
Regional security
But President Assad's future remains a key issue. The West and its Arab allies are determined to ensure that new military strikes on IS (or Isis - the previous name for the group) positions in Syria, as hard as they are to execute, benefit a "moderate" opposition, not the regime.
In Iraq, the Islamic Republic of Iran and the US have found themselves on the same side in tackling the rise of the self-proclaimed Islamic State, although Iranian officials denied a BBC Persian report that rare military co-operation on the ground, with US Iraqi and Kurdish forces, had been approved by Iran's Supreme Leader Ayatollah Ali Khamenei.
Regional security including border conflicts, terrorism and militant Islam were the raison d'etre behind the SCO when it was formed in 1996 as the "Shanghai 5".
Now, when you add up all the SCO members and observer nations, it brings together half of the world's population.
And what of its political weight? Unlike Nato, it's not a military alliance, although it has conducted military drills over the years.
Sergei Lavrov, Foreign Minister of Russia, which assumes the SCO presidency after this summit, wrote in a blog that "we plan to focus on better equipping the SCO to handle the many challenges facing the world today and on working together to adequately respond to events in the region and the world".
And, in a dig at Nato, he said: "The SCO is fully in tune with the realities and demands of the 21st Century, unlike the relics of a past era that rely on rigid adherence to discipline that exists within particular blocs of countries."
But the SCO still has a lot of its own realities to contend with at this summit. What will Central Asian leaders, who have mixed views on Russia's intervention in Ukraine, have to say about Moscow's latest crisis with the West?
Increasing trade flows are also a regional priority but even economics doesn't escape politics. Russia and Iran have been discussing an "oil for goods" barter deal, which now focuses on exchanging Russian wheat for Iranian oil, as a means of defying some of their range of sanctions.
As the first day of this summit drew to a close, delegations assembled for an "Evening of Friendship" to showcase and share the richness of cultural traditions with a musical gala.
The second and final day will accelerate the process of embracing more members in an alliance where friendship means a growing strategic partnership in a world confronting all too many crises.