Philippines ferry sinks - search for survivors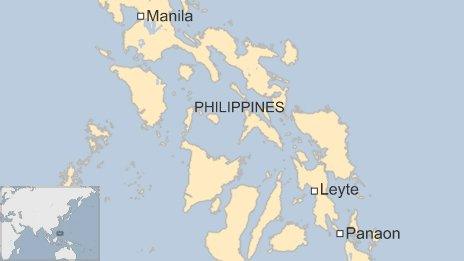 At least 100 people have been rescued, and two confirmed dead, after a ferry sank in bad weather in the central Philippines.
However, the Maharlika II only had 84 people listed as being on board, so authorities cannot say how many more may be missing.
The ferry left Liloan port in Southern Leyte province and an order to abandon ship was given at 21:20 (13:20 GMT).
The Philippines has a poor record for maritime safety.
Scores of people die in accidents every year.
It said the ferry suffered steering problems "due to big waves and strong current".
Commander Armand Balilo told reporters: "Based on our initial report, two people died and 102 others were rescued by three vessels, including two foreign commercial ships.
"We are not sure how many are still missing because it now appears there were more people on board."
It is fairly common for some passengers to board ferries without being listed.
Rescue boats had trouble reaching survivors because of the "huge waves," a spokesman for the council, Mina Marasigan, told AFP news agency.
Maritime accidents are common in the Philippine archipelago because of tropical weather, badly maintained passenger boats and weak enforcement of safety regulations, correspondents say.