Philippines volcano: Thousands flee as Mayon spews lava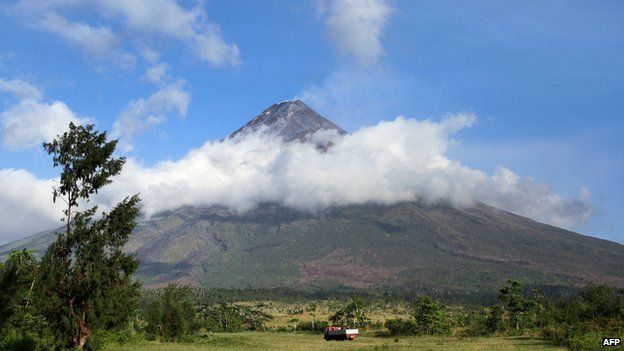 Thousands of Filipinos have fled their homes on the northern island of Luzon after the Mount Mayon volcano began to spew lava.
The authorities are forcibly evacuating villagers living within 6km (4 miles) of the crater, about 330km south-east of the capital, Manila.
Residents in the 6-8km zone are also being urged to leave.
Scientists have warned that Mayon could fully erupt within weeks and have raised the alert level to "critical".
A series of small earthquakes and rockfalls had been recorded and magma could now be seen in the crater, local experts said.
The Philippine Institute of Volcanology and Seismology said in a statement: "Mayon is exhibiting relatively high unrest and that magma is at the crater and that hazardous eruption is possible within weeks."
The government's chief volcano official told the Associated Press that the volcano was already technically erupting, but there had not yet been an explosion.
"Currently, the activity is just lava coming down. If there is an explosion, all sides of the volcano are threatened," said Renato Solidum.
Witnesses said molten lava at the top of the crater created a visible glow on Monday night.
The number of affected residents ranges from 12,000 to 50,000, according to reports.
Authorities believe they will be able to clear the area within three days.
The 2,460m volcano last erupted in May 2013, killing four climbers and their guide.
Mt Mayon has erupted more than 40 times since records began.
The most violent eruption, in 1814, killed more than 1,200 people and devastated several towns.