China's Xi Jinping visits 'splendid pearl' - Sri Lanka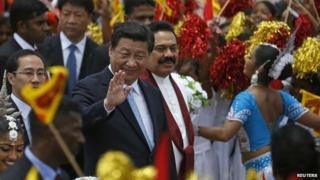 Chinese President Xi Jinping is in Sri Lanka where he is due to sign more than 20 co-operation agreements.
They include inaugurating a Chinese-funded port city which will see land reclaimed from the sea at Colombo.
China is the biggest investor in the post-war island, building motorways, a power station and an airport.
It has denied accusations that it seeks to develop a series of ports nicknamed a "string of pearls" to surround India and counter its influence.
However, on the eve of his visit Mr Xi described Sri Lanka as a "splendid pearl".
On Monday, he held talks in one of the other "pearls" - the Maldives - and heads to India on Wednesday to meet its new Prime Minister Narendra Modi.
President Xi's first official visit to India is expected to focus on further improving trade and trying to resolve a decades-old border dispute.
China is one of India's top trading partners but the world's most populous countries still disagree over the demarcation of several Himalayan areas.
Mr Modi, who was elected in May, has already visited China's rival and neighbour Japan where he secured promises of more Japanese investment.
His trip was seen as an attempt to balance the rising weight of China across Asia.
Correspondents say Mr Xi is expected to pledge investments matching or exceeding Japan's.
President Xi was also due to take in Pakistan, a long-term regional ally, but the visit is being rescheduled because of anti-government protests in Islamabad.