US man held after attempt to 'swim to N Korea'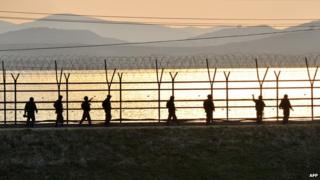 South Korean authorities say they have detained an American man they believe was trying to swim to North Korea.
Guards arrested the man, in his late 20s or early 30s, on Tuesday at a river border near the demilitarised zone.
Border patrol troops found the American lying on the southern shore of the Han River, a government source told South Korea's Yonhap news agency.
Yonhap said he told investigators he wanted to meet North Korean leader Kim Jong-un.
The arrest comes days after a court in North Korea sentenced an American citizen to six years of hard labour for "hostile acts".
Matthew Miller and two other Americans are currently being detained by the North.
'Drunken dare'
Attempts to cross the river in the heavily-guarded demilitarised zone are very rare and dangerous.
In September, a South Korean man was shot dead by border guards while trying to swim to the North.
In 1996, 26-year-old US citizen Evan C Hunziker crossed the Yalu River into the North from China on an apparent drunken dare.
He was held for three months by North Korea on charges of espionage and eventually released after negotiations with the US.