Taiwan imposes tougher penalties for food violations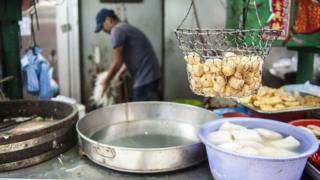 Taiwan's government says it will impose harsher penalties for food safety violations after a "gutter oil" scandal.
Offenders will face seven years in prison for lacing food with banned substances or falsifying ingredients.
If the violation results in death they could be jailed for life and face higher fines.
It comes after a firm was found to have sold recycled oil to more than 1,000 businesses.
Premier Jiang Yi-huah said on Wednesday that fines for violations will be raised 10 times to a maximum of $200m Taiwan dollars (US$ 6.6m, £4m).
Whistleblowers will be given a reward of up to 2m Taiwan dollars. That will be doubled if an employee reports violations in his or her own company.
"Taiwan's reputation as a gourmet food kingdom has suffered big damage because of this food safety incident and we should all work together to get back on our feet," Mr Jiang said.
The move needs approval from parliament.
Tainted oil
Earlier this month edible oil company Chang Guann was fined for selling recycled oil.
An investigation found that the company had sold 782 tonnes of tainted oil, collected from cookers and grease traps, mixed with lard oil to customers.
Hundreds of tonnes of snacks, instant noodles and dumplings have been removed from shelves in Taiwan and Hong Kong since the violation was revealed.
The BBC's Cindy Sui in Taipei says the government is being blamed for being lax in managing food safety.
The new measures also include more monitoring of food producers and a hotline for reporting offences to the government