The Afghan film where a Buzkashi game decides a woman's future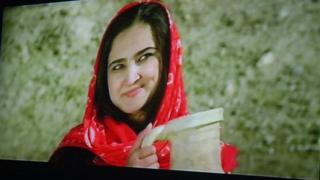 A Man's Desire for a Fifth Wife, an Afghan film shot in a volatile northern province of Afghanistan, has recently been screened in Kabul.
Ostensibly a love story, it delivered some uncomfortable home truths about Afghan society in this first outing to a home audience.
It tells the story of a wealthy landowner Sher Mohammad who is married with four wives, the maximum number according to Islamic law, but who becomes infatuated with another woman named Ulker. He decides he wants to marry her as well, a decision overshadowed by friction and rivalry at home.
But two other men are also in love with the object of his desire - another wealthy married man and a shepherd. To avoid mayhem in the local community the young woman's father says that the fate of his daughter should be decided by a Buzkashi game.
This is a traditional Afghan game where men on horseback fight to pick up a dead goat from the ground, run it across the field and throw it into a circle or a "goal".
Unflinching portrayal
But what about the object of the men's desire?
She loves the shepherd, but as the film's director Sadeq Abedi says: "Sadly Afghan women usually don't have a choice in selecting their future husbands. They end up living in misery for the rest of their life. I wanted to show this reality."
At one point in the film Ulker says she does not want her fate to be "tied to the feet of the horses".
It is not without irony that the most emotionally demanding roles for women in this film were played by Central Asian actresses. Afghan women tend to shy away from scenes that portray them at odds with their own culture.
Nevertheless a number of scenes in the film provide an unflinching portrayal of life in Afghanistan, including the scene where Sher Mohammad beats one of his wives or the scene where we are privy to the agony of two young boys as they are circumcised without anaesthetic.
"Scenes like a man hitting his wife or the circumcision of boys show the harsh reality of life in Afghanistan, where women are treated inhumanely and the vast majority of people still have no access to medical care," Mr Abedi says.
A woman in the audience at its first screening in Kabul echoes these thoughts: "The film has shown scenes that we've never seen before. I think it will be interesting for a global audience to see what happens in parts of Afghanistan."
People in rural Afghanistan still consult a man in the community whose many "skills" extending to cutting hair, pulling out painful teeth and performing circumcisions. This is a centuries-old tradition.
It was partly this desire to document these ancient and steadfast customs that led Mr Abedi to take the controversial decision of shooting the film entirely in northern Afghanistan. He wanted to capture real life in these areas.
"We needed Afghan scenery, horses and uniform for the horse riders not to mention thousands of extras," he said.
Afghan princess
Putting an international crew of 120 in volatile Faryab province was not an easy decision, but although Mr Abedi received threats, the support of local residents, tribal leaders and the army was eventually decisive.
Very few films are produced in Afghanistan, as a result of decades of conflict.
Before those conflicts began, Afghanistan did have an emerging film industry. In 1965, Raia Balkhi was the first film produced without foreign help. It was a romantic story based on the life of a princess from the 10th Century - the first Afghan woman poet, who fell in love with a slave.
Sima and Abdullah Shadan played the leading roles. When they later married, they became the Angelina Jolie and Brad Pitt of their time in Afghanistan.
Almost 50 years later, the spotlight is not on a story about an Afghan woman liberated and bold enough to proclaim her love for a slave, but a woman whose father decrees that the outcome of a game will decide her future husband.
Perhaps, as the director argues, this is the truest depiction of Afghan life. But, with a spoiler warning for the next line, the young woman's fate was also in the director's hands.
So despite the man's desire for a fifth wife, the shepherd won the match and the young lovers were united. He opted for the happy ending.