Thai PM sorry for bikini comment after British murders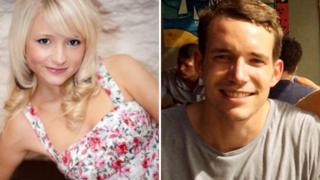 Thailand's Prime Minister Prayuth Chan-ocha has apologised for suggesting that tourists in bikinis were vulnerable to attack - unless they were unattractive.
His comments came just days after two British holidaymakers were murdered on a beach on the island of Koh Tao.
Gen Prayuth was quoted as telling officials: "Can they be safe in bikinis ... unless they are not beautiful?"
The comments sparked outrage and the British embassy said it had contacted officials to seek clarification.
"I'm sorry that it hurt people," Gen Prayuth said at a press conference on Thursday.
He had made the original remarks while speaking to government officials on Wednesday, with reports quoting him as saying: "They [tourists] think our country is beautiful and is safe so they can do whatever they want, they can wear bikinis and walk everywhere."
Thai police admit they are struggling to find the killers of two British tourists, after it emerged crime scene DNA did not match that of any suspect.
The bodies of Hannah Witheridge, 23, and David Miller, 24, were found in Koh Tao on Monday.
British brothers Christopher and James Ware were questioned but police now say there is no evidence against them. They also said that there were no DNA matches for a group of Burmese suspects.
Gen Prayuth was the head of the army when he led a dramatic coup in May. He became prime minister last month.
Thailand's tourist industry suffered in the wake of that coup and the curfew and martial law temporarily imposed afterwards.